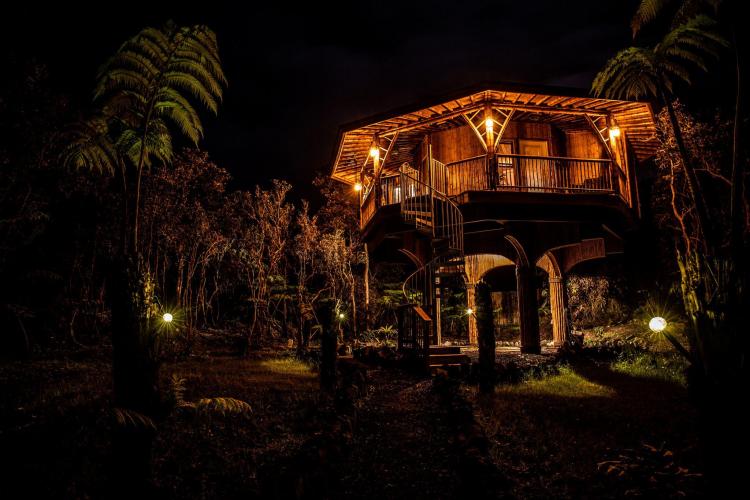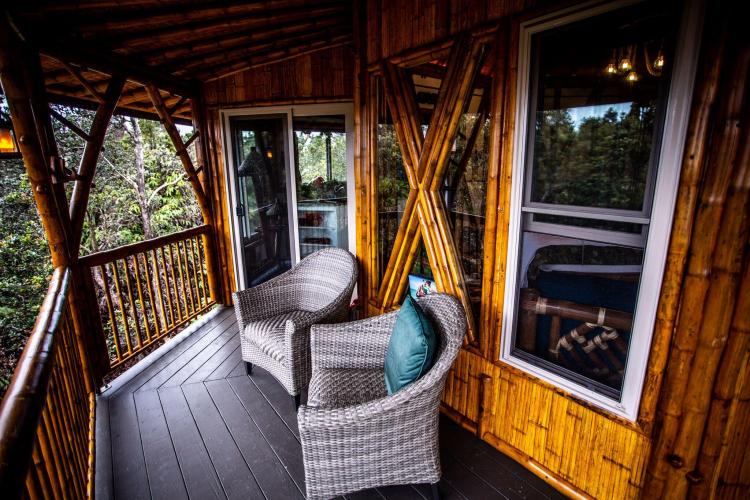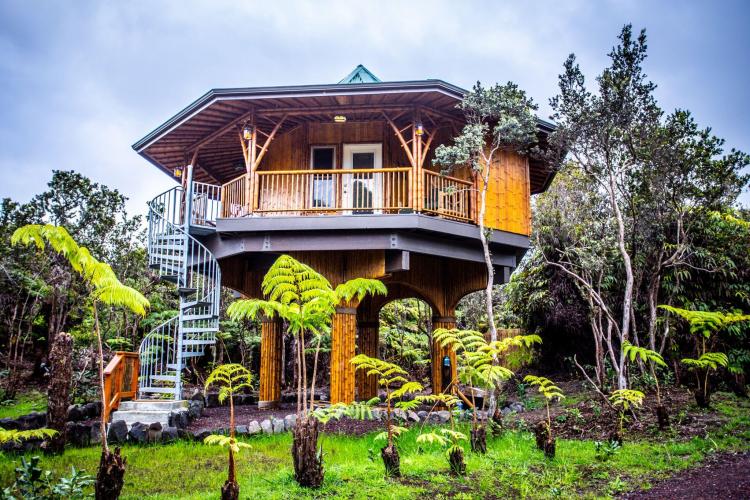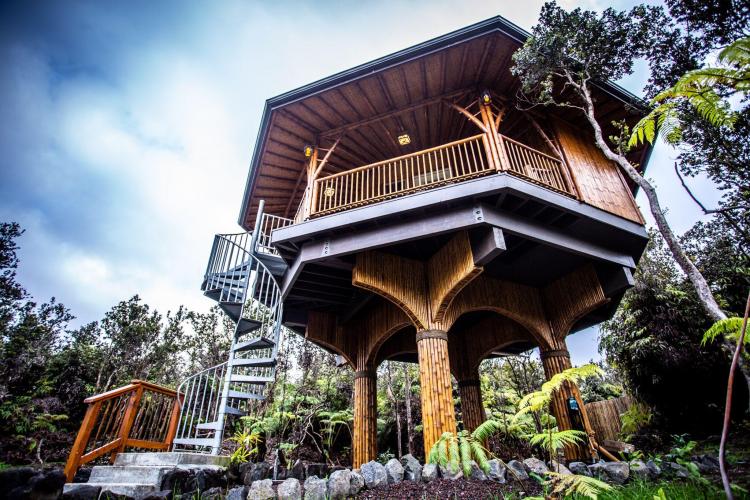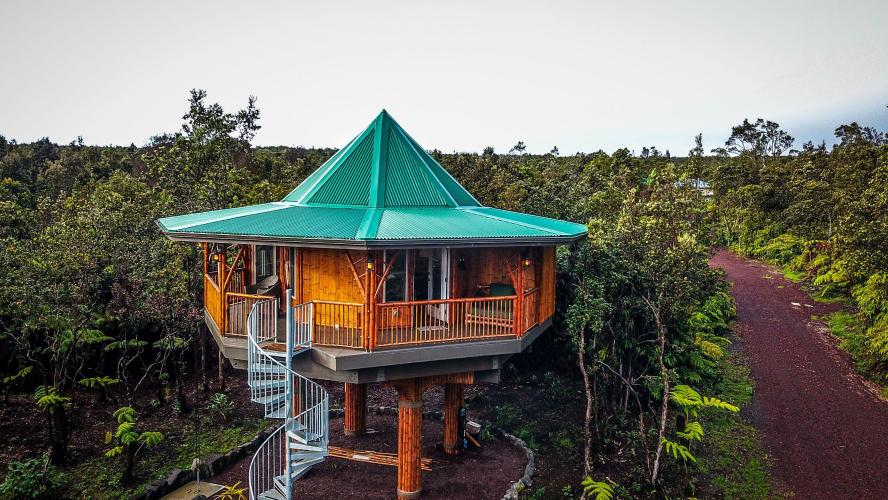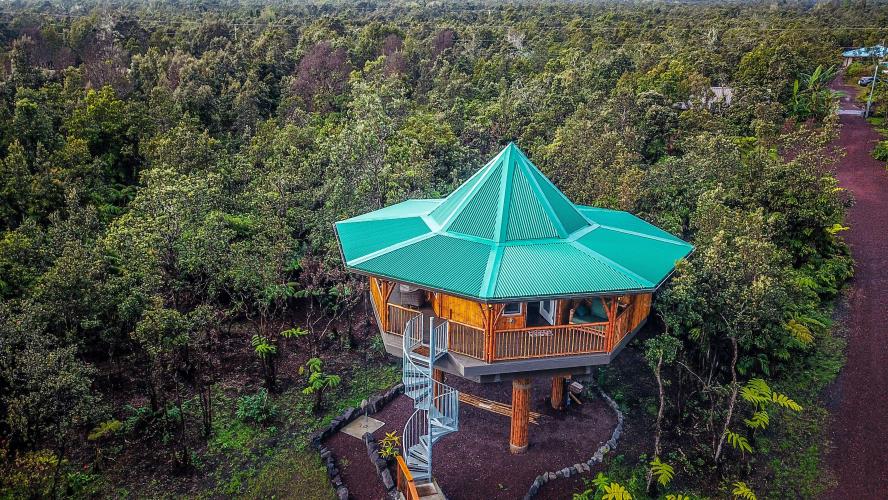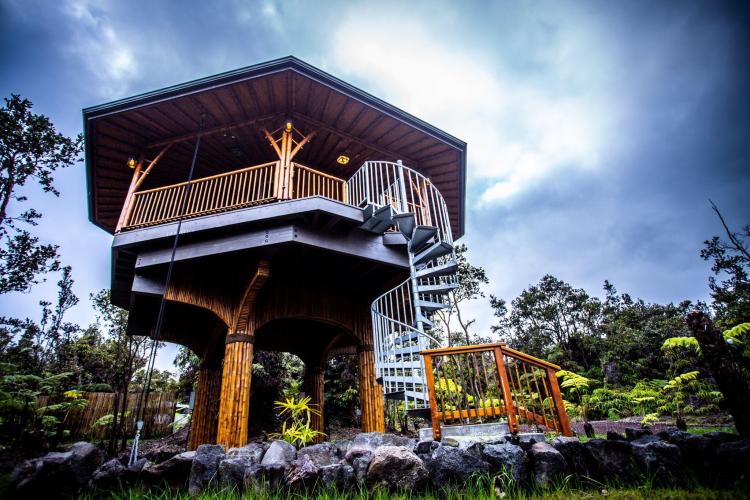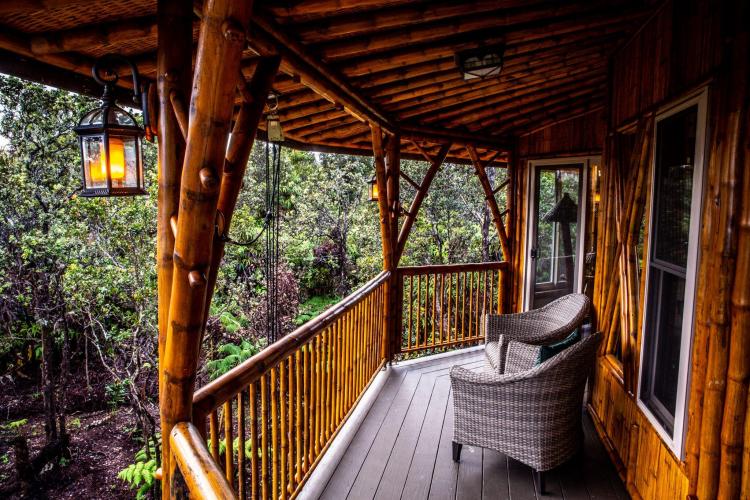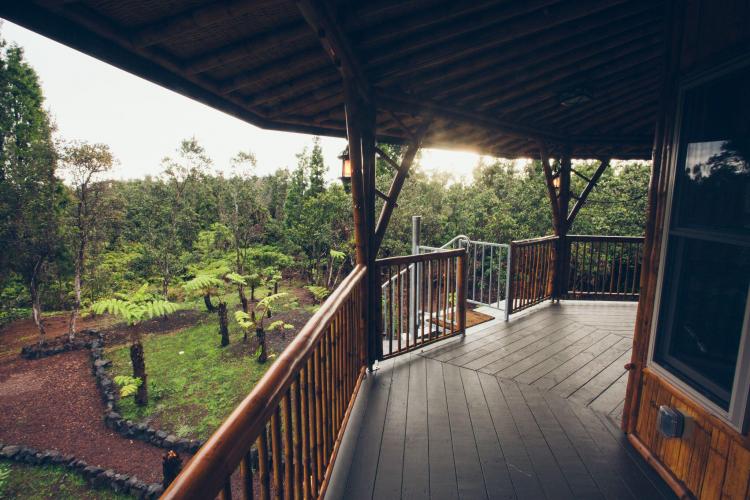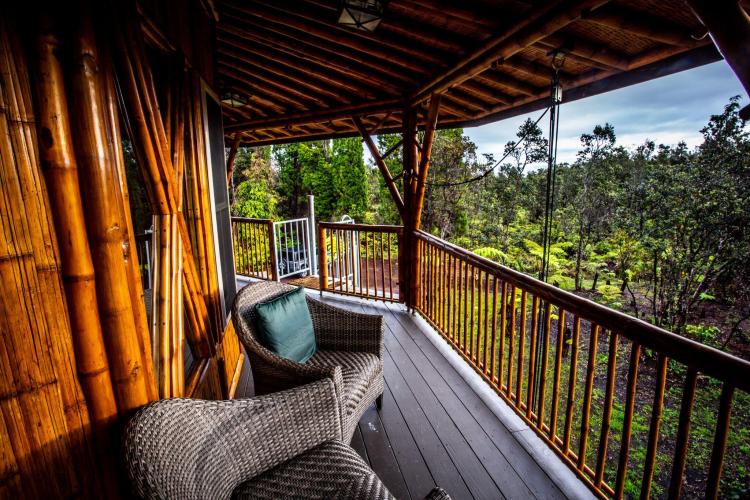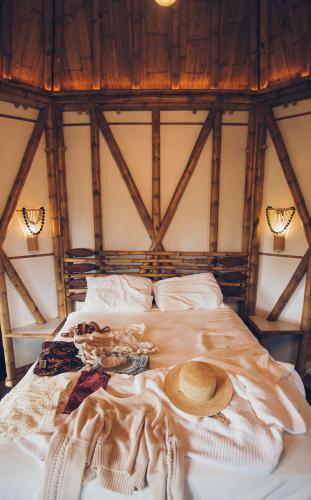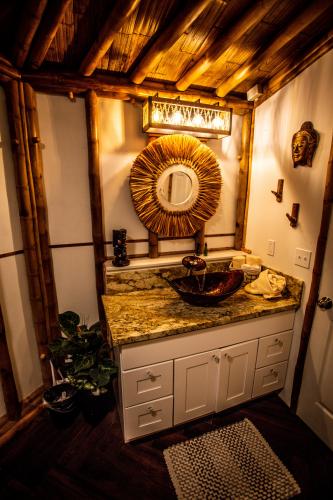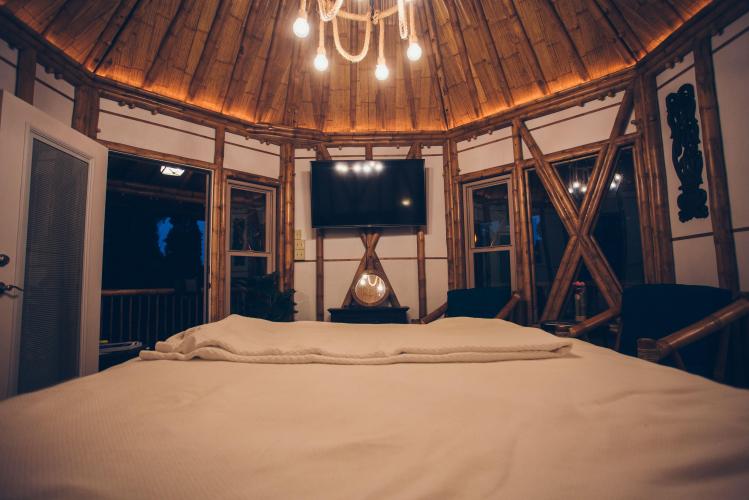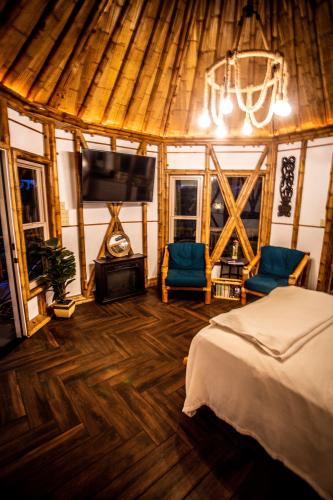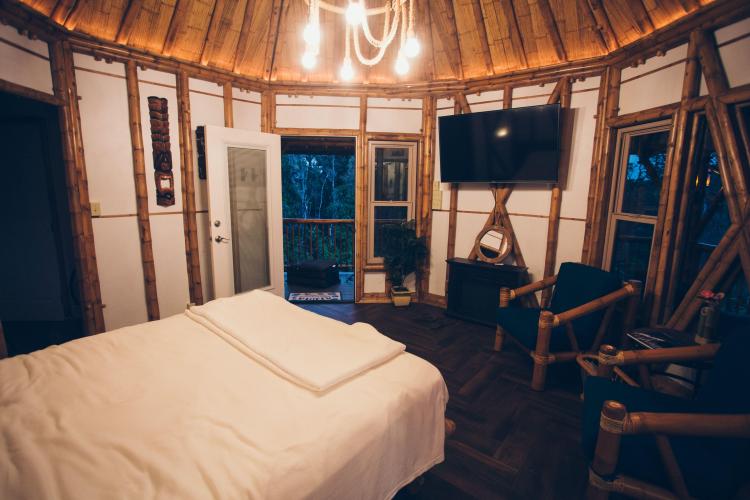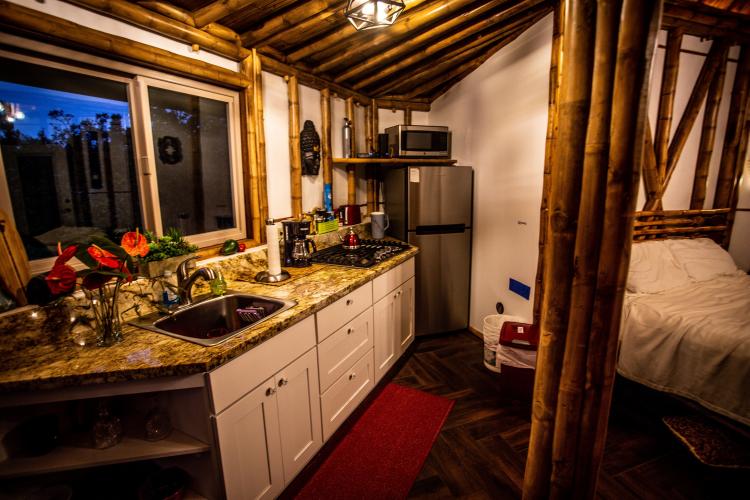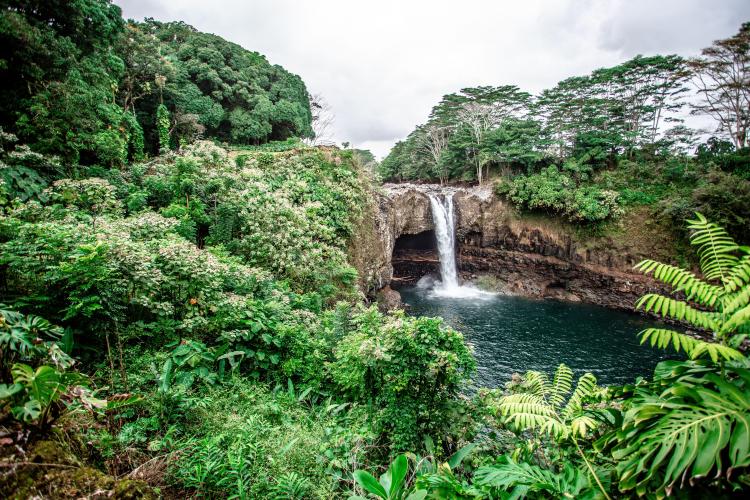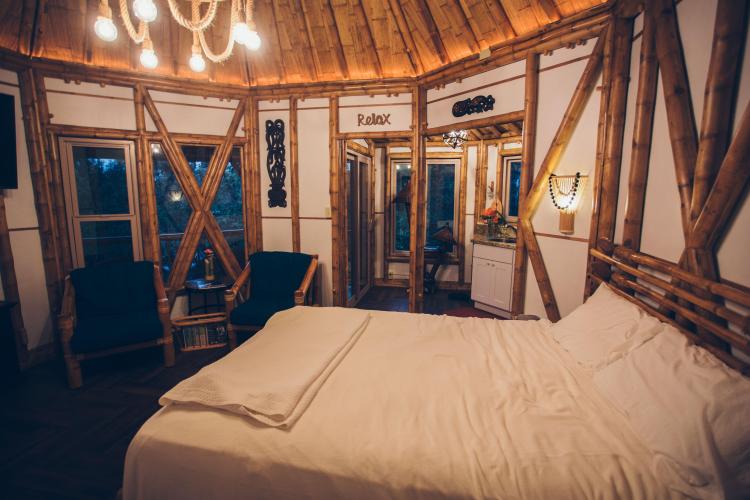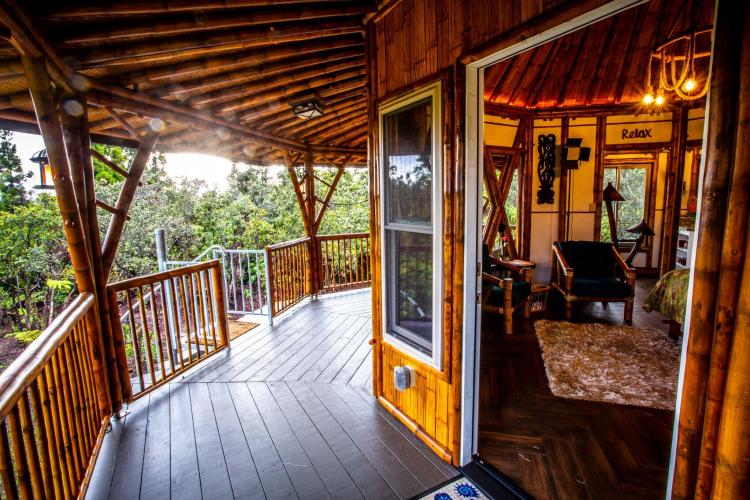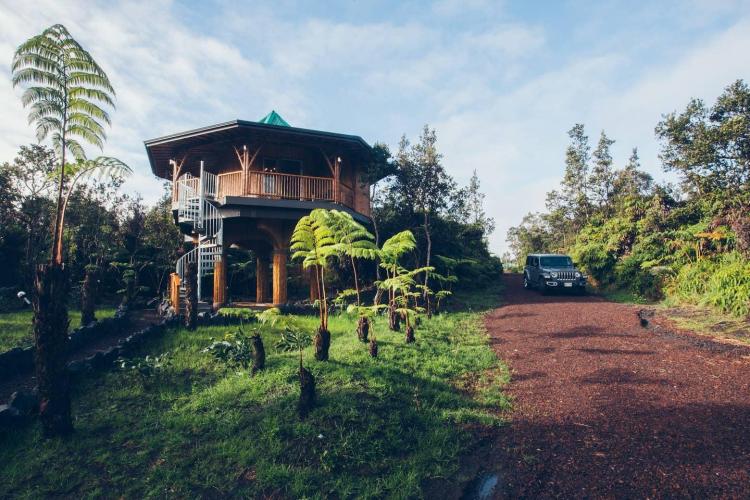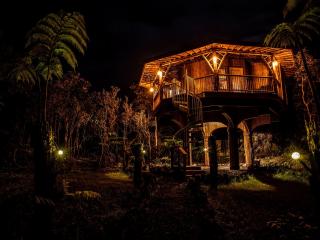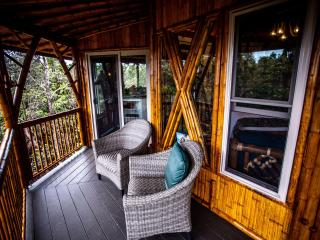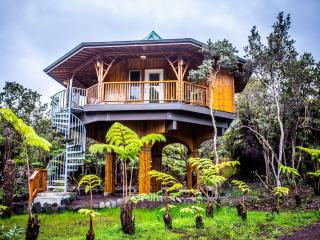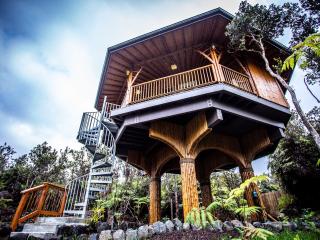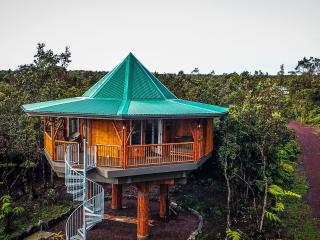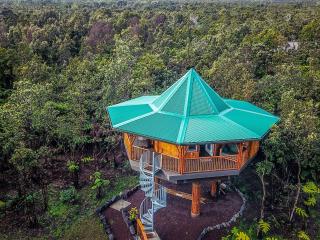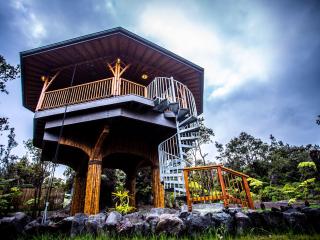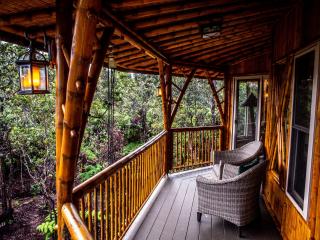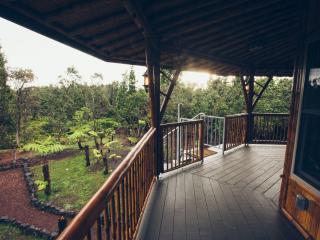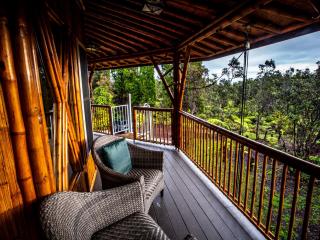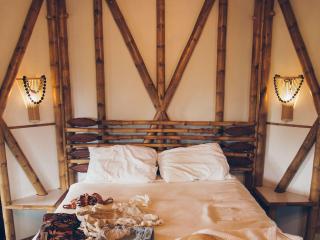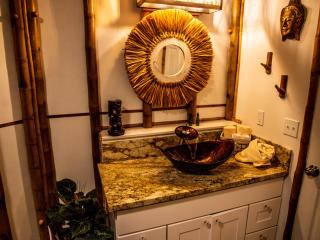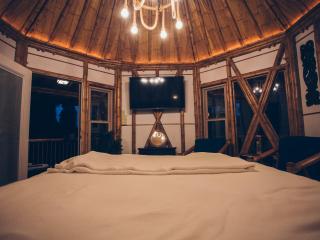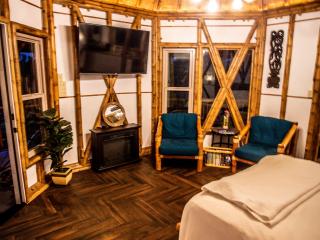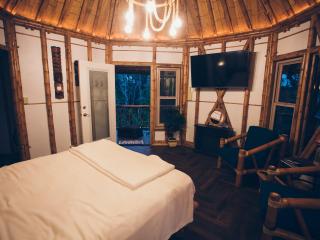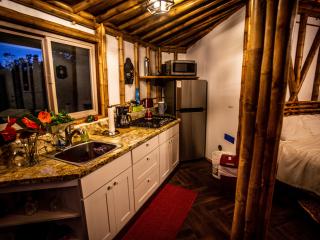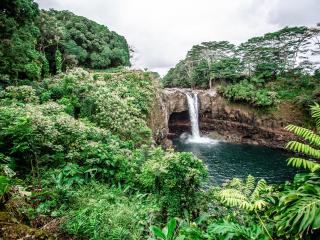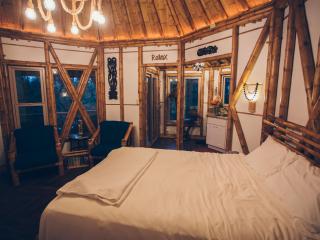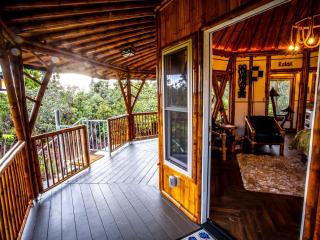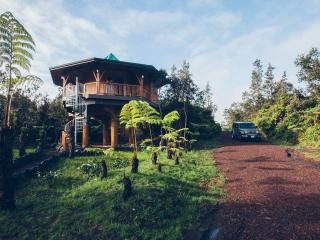 Big Island Bamboo Treehouse
Description
Quiet, secluded, unique, and cozy bamboo treehouse on the Big Island is just minutes from Volcanoes National Park. Beautiful features, inside and out. Test out treehouse living and bamboo beauty, but with loads of extras. This is the only true bamboo tree house on the islands - few places could compare for both structural beauty and lanai views.

The space
This quiet, secluded, treehouse is just a few miles from the National Park entrance. Located on the Big Island with beautiful features, inside and out. Our tree house is the only true bamboo tree house on the Islands. It is fully constructed with bamboo imported from Vietnam, fully code compliant with stringent earthquake and hurricane engineering, and not just accents for beautification but fully structural. This bamboo is stronger than any conventional lumber, with its round shape and ability to bend without breaking makes this bamboo perfect for building. There are few people that have the skill of working with bamboo, where every piece is customized to fit with the next piece because every piece is unique in size, shape, and bend. The house is perched up in the clouds 14feet. It has a spacious living area and a setting that is extremely secluded in the jungle for a couple who enjoys their privacy, This unit is meant for two with a queen-size bed that is comfy and cozy for any romantic couple wanting a getaway. We provide a great mattress for your perfect and tranquil night sleep, and soft silky sheets that will make you not want to get out of bed in the morning. Unlike other tree houses in the area, we can hook to power because we are fully code compliant. This allows us to offer conveniences like WI-FI, dehumidifying, heating, a refrigerator, and a smart TV with Netflix and Disney Plus for our guests to use, as well as for general safety.
Enjoy some coffee or hot chocolate on the lanai and admire one of the most serene views of the amazing picturesque greenery of the ohia trees, huge ferns, tea leaves, banana trees, liko lehua, and beautiful flowers, while listening to the native birds Apapane singing, coqui frogs, and other wildlife. There are no predators on the island so rest easy knowing the wildlife are safe, and will not hurt you. We provide a book with all the amenities about the house and with things to do in the area to make your stay easy, relaxing, and enjoyable. We are also always close by for anything you may need.

Enjoy the best lanai anywhere, great Wi-Fi, a 4K Smart TV with Netflix and Disney Plus, a fully equipped kitchen with pots, pans, dishes, utensils, etc. with appliances for eating in a dehumidifier, umbrellas, towels, shampoo, soap, and a spacious shower. We try to combine our love for nature with spoiling you with every amenity we can think of. It is a good idea to pick up some groceries on the way up to Volcano, if you will be eating in.

The running water comes from the rain falling on the roof and collected into a catchment tank. When water is turned on, it is pumped through filters and an instant hot water heater will supply all your needs. We do provide drinking water though, for your benefit. This is a rainforest on the Big Island so expect some showers! Realize that the pitter-patter on the roof is the rain's first stop on its journey to the water tanks and then to your shower. Don't think of rain as ruining your trip, but instead an asset to be enjoyed!!

We pride ourselves in giving you a 5 star experience at our Beautiful Big Island Bamboo Tree house, while also being just a few minutes from the National Park, lava tube caves, restaurants, hiking, shops, art galleries and craft venues, Sunday morning farmers market, and golf. Just a little further and you have Green and Black sand beaches with turtles, Akaka and Rainbow Falls, Botanical Gardens, and helicopter and boat rides. At night spend some time star gazing on Mauna Kea summit or just from the house. You will never feel so close to the stars as you do here.
At Hawaii Volcanoes National Park Kilauea has been active for decades. There are hiking trails in and around the park, through rainforest, desert, and volcanic devastation; even a path with footprints preserved from an eruption over a hundred years ago. And Volcano Village is nearby with a few restaurants, a small store and a place to buy gas. This island is so unique and beautiful! Prepare yourself to enjoy nature at it's finest!!

We promise to do everything we can to make your visit both memorable and enjoyable. Please allow us the chance to serve you and we will do our part to make your vacation the best you have ever experienced.
Please ask about Kama'aina, military, rates.

Here is a more comprehensive list of amenities and features that will be available to you:

•Indoor Shower
•Toilet with Overlaid Sink
•Organic Shampoo/Conditioner
•Towels
•Ample Parking
•Tiki Torch 'Flashlights'
•Table and Chairs for Lanai
•Binoculars
•Several Books
•Outlets (3-prong and USB)
•Kitchen Sink
•Coffee Maker
•Clean Linens
•Fridge for Food/Drink

Guest interaction can be tailored to your needs. My goal is to make sure your stay is unforgettable so you can always contact me via phone or email. Because I do not live on the island year round, a local neighbor can assist you if you have any problems that need tending to. Upon your arrival I can arrange to have someone greet you and show you the property or simply stow away the key for your convenience. The choice, of course, is yours.

Tia is on site, and I can always be reached. Feel free to call/text/email me at any time during your stay should the unlikely event that a problem arises. I will immediately contact the proper authority to have the problem remedied.

The treehouse is located at the end of a neighborhood street making it very private. It is set about 50 yards off the street behind a windy, jungle path further adding to your privacy. There are only about five full time neighbors scattered throughout the neighborhood so don't expect to see a lot of people.

The treehouse is about 20 miles from Hilo, 23 miles from Pahoa, 12 miles from Keaau. Volcano is the closest place for laundry, good restaurants and groceries, though you will pay a little more for the groceries than in Hilo or Keaau. I recommend you stop on your way in from Hilo. When you book I will include a guidebook that has the locations, hours and prices of local restaurants and grocery stores.

There is quick access to highway 11 and it is 5 miles from Volcanoes National Park. Numerous opportunities for sightseeing and adventures are within a 40 minute drive of this treehouse paradise and they will be included in my guest guidebook as well.

This is the ultimate spot for couples seeking romantic seclusion in the middle of a tropical jungle or individuals who want to escape the world.

Unless you feel like hitchhiking, you will definitely need a rental car with high ground clearance to comfortably explore the surrounding areas and access the treehouse. While nothing is 'far' on the big island, everything is just a bit out of reach by foot... except of course for those lovely, yet dense, jungle strolls.

Guest access
Guests have free range to fully utilize every aspect of the house. The house is for your enjoyment.

Here is a more comprehensive list of amenities and features that will be available to you:

•Indoor Shower
•Toilet with Overlaid Sink
•Organic Shampoo/Conditioner
•Towels
•Ample Parking
•Tiki Torch 'Flashlights'
•Table and Chairs for Lanai
•Binoculars
•Several Books
•Outlets (3-prong and USB)
•Kitchen Sink
•Coffee Maker
•Clean Linens
•Fridge for Food/Drink

Other things to note
This is paradise, and as such has no predators. Of course, it's a rain-forest so it has some bugs, moths, and strange looking animal and plant life. At night the frogs chirp and you may even catch a glimpse of a pig or a camelion. The one nice thing is Mosquito's are not in this area due to the elevation Take it all in and enjoy the cool nights and the beautiful landscape.
Amenities
+ more
- less
Carbon Monoxide Detectors
Room details
1 bedroom
1 full bath
+ more
- less
Bedrooms
Bathrooms
Main Bathroom (private) :
Sink
Toilet
Shower
Rules and special rates
2 guests max
1 night min stay
1000 nights max stay
+ more
- less
check-in: 05:00 PM
check-out: 11:00 AM
Rates:
Base Rate:

$250

/nt
Discounts:
Stay 7 nights: 5% off
Stay 30 nights: 15% off
Cancellation Policy
The guest can cancel up to 14 days before arrival and receive a full refund. There is a free cancellation window 24 hours after booking.
Interactive area view
click & drag to explore
Volcano Map
drag to navigate