You're Host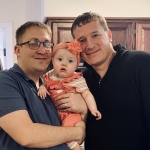 Aloha,

My name is Robbie Falconburg-LaCelle, I am currently 33 years old and work for a local hospital St. Luke's in Boise Idaho. I was born and raised in Jerome, Idaho and graduate Jerome High School in 2005. I started dating my spouse in 2007 and married in 2013. We currently residing in beautiful Nampa, Idaho, and have a 6 month old daughter. We have two homes on the big island of Hawaii located in a small village called Volcano Village. The Big Island, it is the best island in Hawaii. There are so many things you can enjoy on this island: beautiful stars, beaches, Hawaii Volcanoes National Park, snow atop Mauna Kea and tropical fruits all year.


We love to meet people who visit from all over the world!!
Contact Us
Contact Us
Want to know more about one of our homes?

Want to double-check our availability?